Since the year 2003, October 10 has been named the World Day against the Death Penalty by dozens of human rights organizations.
The death penalty has been abolished in 104 countries, and in some of these countries, it has been done through a referendum. Also, 50 countries do not use the death penalty or its execution has been stopped. In six countries, the death penalty has become virtually abolished, except in special cases (such as wartime), and it is only active in 36 countries.
October 10, the World Day against Death Penalty is here. For citizens of countries with governments fixated on executing the cruel and inhuman punishment, it is a reminder that despite the world's entrance into the 21st century, there is still a long way to go before leaving this medieval punishment behind for good.
Iran is a prime example of such a mentality. To go beyond the surface and get a little deeper, for Iran's rulers, it is not just a mere form of punishment. It is an instrument of spreading fear among the citizens.
In the case of mullahs in Tehran, execution is a means to an end. It is only used to keep the fed up citizens in check, and a reminder that dissent will have dire consequences. The regime has tried throughout its life to sugarcoat and sell it to the rest of the world as a noble contribution in the fight against drug smugglers.
In Iran, the state executes people as punishment for a variety of crimes – sometimes for acts that should not be criminalized. The regime hangs hundreds for non-violent drug offenses. Iran has the highest rate of executions per capita in the world. The officially announced total number of executions during Rouhani's tenure has reached more than 3,800 cases.
A look at Iran's judicial system
Iran's judicial system remains among the most brutal in the world. Tehran continues to target political dissidents and ethnic, religious, and sexual minorities for execution. Capital punishment can be—and often is—carried out against juvenile offenders and for nonviolent crimes.
The cruelty and inhumanity of Iran's system of punishment goes well beyond executions, however. Individuals may be arrested and indefinitely detained without charge or on trumped-up offenses; subject to degrading treatment, including torture, in order to extract confessions; denied rights such as access to legal counsel and fair and speedy trial; and incarcerated in overcrowded prisons where they are subjected to torture, rape, and other atrocities.
Brutal methods of execution in Iran
Iran executes the majority of convicts by hanging within prisons. The regime, however, also regularly carries out executions in public to terrorized the public. In many of these cases, the victim is publicly hanged from a construction crane, an especially slow and painful method of execution.
Stoning also continues to be a state-sanctioned form of execution. In 2017, a man and woman were sentenced to death by stoning for adultery. Other legal methods of execution include firing squad, or being thrown from a height.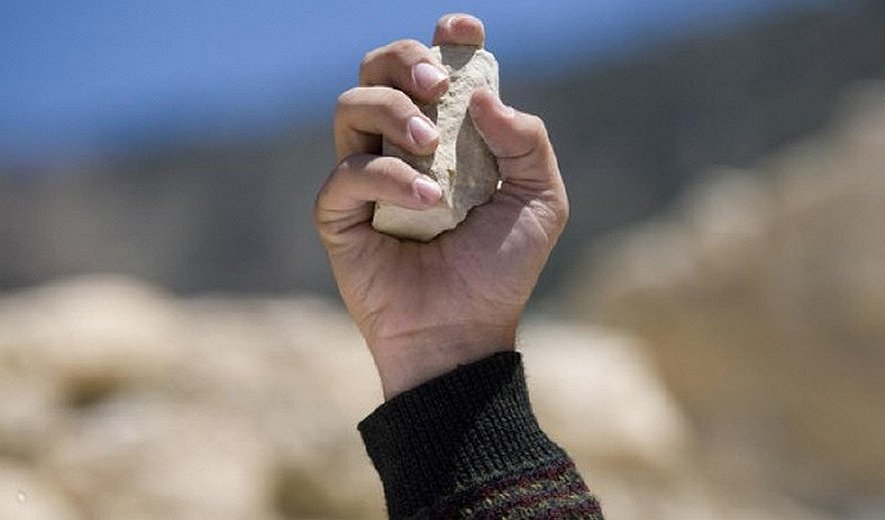 Iran's dark history of executing members of People's Mojahedin organization of Iran (MEK/PMOI) in 1988.
The massacre of Iranian political prisoners in mid-summer of 1988 is considered to be the greatest crime against humanity after the World War II. It is a crime that all the factions of the theocratic regime ruling Iran took part in, and a pond sea of blood that Khomeini baptized all his regime in.
In the summer of 1988, Ruhollah Khomeini, then-supreme leader of the Iranian regime, issued a fatwa (religious order) to massacre thousands of political prisoners, most of them MEK/PMOI members and supporters. The victims of the massacre were buried secretly in mass graves in unknown locations.
It's worth reminding that 30,000 political prisoners, most of them were MEK members, were sent to the gallows of the firing squad during the 1988 massacre.
Executions, torture, stoning, severing hands and feet, and gouging out eyes are institutionalized in Iran's penal code and literally legalized by this regime's so-called laws. Executions in Iran have become means to crack down on people's freedoms and quell social protests.
What's a Crime in Iran's point of view?
According to mullahs law, many acts are considered as crime and people are sentenced to death if they are violated, the most important acts that Iranian regime charged people for is Moharebeh (Enmity with god) or Ifsad –e- filarz's (ordinances and creating corruption on earth).
The acts consider as crime and paintable by execution are follow:
Sowing corruption on earth
Propaganda against the State
Spreading propaganda against the system
Insulting Iran's first supreme leader, Ayatollah Khomeini
Insulting other government officials
Publishing false news
Apostasy, heresy, or witchcraft
Insulting or cursing the prophet Muhammad or his family
Insulting "Islamic sanctities"
Adultery
Same-sex relations
Fornication
Belonging to, establishing, or operating a banned organization
Development and promotion of pornographic websites
What the Iranian people call for?
Iranian people call on all human rights organizations and advocates to impel the mullahs' regime to bring an end to executions in Iran.
They want an Iran free of the death penalty. The abolition of the death penalty must include Iran, and Iranian people should not be sentenced to death by a regime which uses this punishment to prolong its rule.