The girl is said to be around 11. The man is reportedly twice her age. They were recently wed in a remote southwestern Iranian province with a video of the ceremony posted online.
Everyone who heard this was shocked.
But child marriage is becoming more common and is on the rise under the rule of Mullahs, who established a religious dictatorship in 1979. Not only the regime has taken no action to prevent child marriages, but its misogynistic policies and laws have further exacerbated this situation.
Increasing pressure and restrictions on Iranian women in addition to various obstacles to their employment and social activities, marriage laws and widespread poverty are some of the main causes of growing depression and despair among women in Iran, leading to growing suicide rates among women.
In Iran, the legal age of marriage for girls is, 13 with parental consent—girls younger than can be married with permission from a judge. For boys, the legal age for marriage is 15.

According to statistics released by Iran's National Organization for Civil Registration, from March 2013 to March 2017, 1,007 girls under the age of 10 and more than 190,000 girls younger than 14 were married in Iran.
The practice has been on the rise in Iran and the United Nations condemned the country for the rising number of young girls forced into marriage.
The UN Committee on the Rights of the Child (CRC) said Tehran must "repeal all provisions that authorize, condone or lead to child sexual abuse."(NEWS Week 2/5/16 on Child marriage in Iran)
Moreover, the Committee called for the age of sexual consent to be increased from nine to 16 years of age.
The CRC added an increasing number of "girls at the age of 10 years or younger… are subjected to child and forced marriages to much older men."
Estimates from the United Nations children's agency, UNICEF, in 2016 indicate that 17 percent of girls in Iran were married before the age of 18(Child marriage in Iran). And according to statistics from the Iranian National Organization for Civil Registration quoted in 2015 by the Center for Human Rights in Iran, over 40,000 girls under the age of 15 had registered their marriages during the preceding year.
Experts say the real number of child marriages in Iran could be much higher, as many of the marriages are not officially registered. This creates a complex problem, where the spouses in unregistered marriages have no civil rights and the children from these marriages have no birth certificates. Children born in unregistered child marriages are therefore deprived of education and social protection, and face a future beset by poverty, juvenile crime and addiction.
Another category of child marriage identified by experts is based on people in poverty seeking economic gain. These parents send away their daughters very young to the groom's house in exchange for a bride price. Early marriage is a form of child abuse and it violates children's rights, girls' in particular.
According to the UN Convention on the Rights of the Child, everyone under the age of 18 is considered a child and is entitled to all the rights included in the convention, which include the right of girls to be "free from all forms of discrimination, inhuman and degrading treatment, and slavery."
The Iranian regime signed the UN Convention on the Rights of the Child (CRC) in 1991, and ratified it in 1994. Upon ratification, The regime made the following reservation: "If the text of the Convention is or becomes incompatible with the domestic laws and Islamic standards at any time or in any case, the Government of the Islamic Republic shall not abide by it."
Women Burn Themselves To Evade Oppressive Marriage Laws In Iran(Child marriage in Iran)
The suicides of a young woman and a mother of four in the span of a week have focused attentions on the misogynist marriage laws in Iran.
A 16-year-old young woman named Ziba set herself on fire to evade her family's insistence that she marries an old man.
The state-run Khorasan daily published a report on August 26, 2019, saying that the young woman was being forced into this marriage by her step mother. According to this report, many parts of Ziba's face and body were burned, but she has been released from hospital.
In another shocking report from Dehloran, a married woman by the name of Mandana Hosseini, mother of four sons, set herself ablaze to protest her husband's second marriage. She died after four days in a medical center in Ilam on August 19, 2019, due to the extent of the burns.
Based on the clerical regime's oppressive marriage laws, men can have four wives. At the same time, they are authorized to divorce their wives without informing them.
The state-run daily Entekhab published a report in March 2019, citing Ali Kazemi, advisor to the legal deputy of the Judiciary Branch. According to Kazemi, "Between 500,000-600,000 children get married every year (in Iran) according to officially-registered data. The main problem is that there are marriages taking place beyond those officially registered." (The state-run daily Entekhab – March 4, 2019)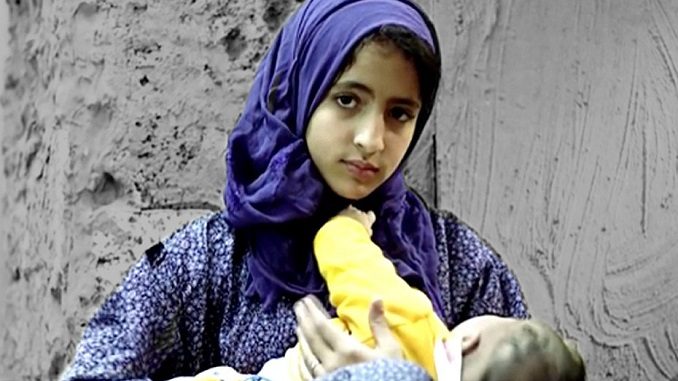 In June, there were at least two reports on suicides of young women due to forcible marriage. Souma Khedri, 19, from Baneh, and Sara Esmaili, 17, from Piranshahr, committed suicide to evade forcible marriage due to lack of legal protection for women under the law.
Child marriage in Iran
Iranian women have no form of support in the face of misogyny institutionalized in Iranian laws. Instead of removing the structural and discriminatory obstacles and providing equal economic opportunities for women, the Iranian regime is reinforcing its laws and regulations which discriminate against and marginalize women. The Iranian regime's laws see women as slaves at the disposal of men, and therefore, women ultimately resort to suicide to avoid further pressure in family disputes and Iran stands as the first record holder in the Middle East with regards to suicides among women. Also, according to the laws of the mullahs' regime, the blood money of a woman is half of that of a man. If a man murders a woman, the victim's family must pay the family of the murderer an amount of money equal to the blood money of their daughter to have the regime's judiciary punish the male murderer.
According to a social pathologist, the rate of suicides among women in Iran increased by 66 percent during a five-year period. (The state-run Khabar Online – November 3, 2017)
Mohammad Mehdi Tondgouyan, deputy in youths' affairs at the Ministry of Sports and Youths, revealed for the first time the figures on suicide in Iran on August 19, 2018. Tondgouyan said 4,992 persons had committed suicide in Iran from March 2017 to March 2018, adding, "Two-thirds of those inclined to commit suicide are women and one-third are men."
In other news, Behzad Sattari, general director of the Welfare Organization in Ardabil announced that early marriages have become common practice in that province.
Sattari pointed out, "Out of a total of 12,000 marriages over the past year in this province, 37 percent (i.e. 4,400) have been from among girls between 10 to 14 years of age. This is while 42 percent of the total number of marriages in this province were from among women under 19 years of age."
Based on data published by the national registrar, 37,000 girls between 10 and 14 years of age were married in 2015 in Iran.
According to a sociologist, "Early marriages make slaves out of girl children. Not only they are subjugated by their husbands, but since they are children and cannot manage their own lives, their husbands' families dominate them." (Official IRNA news agency – September 4, 2019)
Presently, more than 80 percent of the people of Iran live under the poverty line and the middle class has diminished altogether. The percentage of people living under the absolute poverty line has increased from 12 percent in 2017 to 50 percent and the poverty line stands at 6.5 million tomans. This is while Iran sits on a sea of oil, is the world's second largest source of natural gas, and has many natural resources.
According to Sharifi Yazdi, one of the regime's experts, "Depression among girls is twice as much as among boys all over the world, but studies show that the number of depressed girls in Iran is four times greater… Compared to boys, girls are under heavier psychological pressure. Also, from a social standpoint, their participation, relations and cooperation are lower compared to boys." (The state-run Salamatnews.com – July 15, 2018)
But what we should do now?
It is necessary to remind, Mrs. Maryam Rajavi, the president – elect of the National Council of Resistance of Iran (NCRI), view on women's right issue:
Fundamental freedoms and rights
• Women shall have the equal right to enjoy all human rights and fundamental freedoms;
• Irrespective of their ethnicity, religion, social class or demographics, women everywhere, in whatever village or city, must have the same rights as men in all economic, social and political spheres. Discrimination against women must be abolished in all its forms(2).
• Women are free to choose their place of residence, occupation, and education. They must have the opportunity to travel freely, have the right to freely choose their clothing and spouse, and have the right to leave the country, to obtain foreign citizenship, to devolve citizenship to their children, to divorce, and to obtain custody and guardianship over children(3).
• Belief in a specific faith or religion must not count as a factor to degrade any women or to prevent them from access to employment opportunities or educational and judicial resources.
Iranian women, however, have never remained silent over the past 40 years.
They joined the struggle against the mullahs' religious tyranny in step with men. Today, they hold the leadership of the main opposition force to the mullahs' regime, the People's Mojahedin Organization of Iran (PMOI/MEK). With such role models, we can see Iranian women in the streets, participating in most protests against the regime, speaking out for their rights, and paying the price for freedom to turn the page of history in their homeland.
---